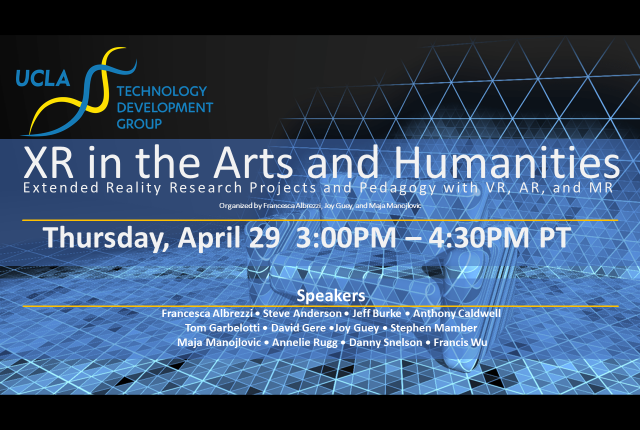 The XR in the Arts and Humanities: Extended Reality Research Projects and Pedagogy with VR, AR and MR webinar will take place on Thursday, April 29, 2021 at 3 PM Pacific. Writing Programs' Maja Manojlovic and the other members of her team will present on Scribe VR, a concept for an app to immersively compose, ideate, and creatively express oneself in a 360 space.
This FREE webinar showcases the UCLA XR Initiative (XRI), and projects by its associate faculty in the Arts and Humanities. Working with XR technologies of virtual (VR), augmented (AR), and mixed (MR) realities, their work spans research, performance, app development, and classroom pedagogy. Individual speakers and teams will give lightning talks on the following topics:
Teaching app for the research of 3D films in VR
Creative VR projects designed to catalyze reflections on a diverse UCLA campus community, and individual stories by people living with HIV
Architectural reconstructions of historic Theaters in Downtown LA with AR
Experimental multimedia performance with MR
VR app concept for writing in a 360 space
Classroom pedagogy with VR
Audience attending the webinar will have an opportunity for a Q&A with the speakers, while those unable to attend can view and interact with the projects in Mozilla Hubs.
The webinar is free, but you must register online in order to attend.