Tara Prescott–Johnson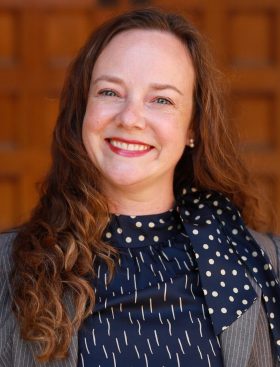 Dr. Tara Prescott-Johnson is a Continuing Lecturer in Writing Programs, where she oversees the training and mentorship of graduate student English Composition 3 instructors. Her research interests include writing pedagogy, twentieth- and twenty-first century American literature, modernism, poetry, graphic novels, and gender studies. Some of the courses she teaches include English Composition 3 and 3SD (Civic Engagement & Diversity), English Composition 131C (Medical Narratives), Honors 19 (James Joyce's Ulysses), and Honors 87W (The Art of Neil Gaiman). She has also participated in two creative Fiat Lux seminars in response to the COVID-19 pandemic, including COVID 19: Anything But Zoom.
She is a returning Bruin, having earned her B.A. in English with an emphasis in Creative Writing at UCLA. She also holds an M.A. from The Writing Seminars at Johns Hopkins University and a Ph.D. in English, specializing in twentieth-century American literature, from Claremont Graduate University.
Dr. Prescott-Johnson is the author of Poetic Salvage: Reading Mina Loy (Bucknell University Press), editor of Neil Gaiman in the 21st Century (McFarland), and co-editor of Gender and the Superhero Narrative (University of Mississippi Press) and Feminism in the Worlds of Neil Gaiman (McFarland). Her forthcoming publications include "Primera Generación, Pero No La Última," co-written with her former English Composition 3 student, Nancy Valencia, which will appear in Campus Service Workers in Support of First-Generation College Students: An Anthology (Routledge).
Writing is an intrinsic part of Dr. Prescott-Johnson's life and she loves to encourage students with their writing projects and have them over for tea in Canyon Point, where she lives as a Faculty in Residence. To learn more about Dr. Prescott-Johnson, please see her TEDxUCLA talk "Hike Your Own Hike" and her website, www.taraprescottjohnson.com.